Who we are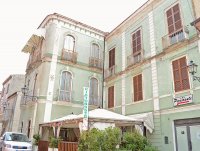 Zio Mamo faithfully proposes the flavours and the recipes of the tradition.
Family run business since 1903 when the grandparents of the actual owner opened the " Locanda di Nonna Giulia" nicknamed "La Piattona"(Big Plate), who created the famous and tasty Goat "alla Neretese" and the Turkey "alla Neretese".
Zio Mamo is located in Nereto, in the heart of beautiful Val Vibrata, 8 km from the coast and 20 km from the mountains of the Parco Nazionale D'Abruzzo.
We are surrounded by the little town of Torano Nuovo, Controguerra, Sant'Omero, Corropoli, Sant'Egidio alla Vibrata, Civitella del Tronto, Ancarano and Colonnella. It is near the tourist destinations of Alba Adriatica, Giulianova, Tortoreto, San Benedetto del Tronto and Ascoli Piceno.
Come and see us. You can request a non committing booking by clicking here.